Coffee time! Let's have a break...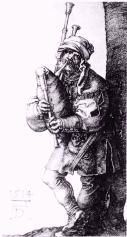 I used to play bagpipes
---
I used to play Galician Bagpipes, which are native from Galicia (surprised?), in NorthWestern Spain, and some other instruments (wooden flute, classical Spanish guitar, middle-eastern percussion). Unfortunately, after having been part of the folk group Barahúnda for some time and having released a record with them, I no longer have time to play actively. I do it at home as part of private enjoyment. I maintain, however, the information on galician bagpipes I compiled time ago and which managed to become quite popular among bagpipe lovers. Here it is for your viewing pleasure. I also put together time ago some information about Galician music groups. Note that the latter is seriously out of date.



---
Go back to my home page